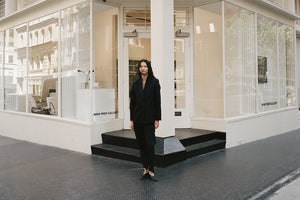 rewriting the story of foundational, conscious clothing
Suit Your Mood
Womenswear can no longer be secularly defined by gender. An androgynous transformation over decades has blurred these lines, allowing us all to harness the power of suitwear. Once exclusively assigned to men, this attire has become a tool for the modern feminine seeking comfort, ease and empowerment through fashion.
Through this story, we'll traverse the versatility that draws contemporary women to unfailingly make suit pieces a foundation of their daily wardrobes, and how dāl chooses to intrinsically link this with a conscious landscape.
refined versatility
We chose to shoot the pieces from our Capsule II within the urban backdrop of NY, a city whose streets unapologetically align with the feelings of power, authority and confidence suitwear evokes. It also represented an element of relaxed versatility, an option to be whoever you feel like on any given day. Each piece has been crafted with minimalist refinement to honor adaptability and modify with your fluid mood and daily style.
Suits For A Life Of Easeful Empowerment 
For pieces to become daily staples, they need to be comfortable and easy to wear above all. From our expert tailoring to the selection of gentle, sustainable fabrics, each garment has been designed for wear during your 9-5, straight through to 5-9.
Conscious Clothing Staples For The Modern Woman
Suitwear has navigated feminine muses for decades; Bianca Jagger, Katherine Hepburn and the models who first showcased Yves Saint Lurent's legendary 'Le Smoking' jacket. These stylistic donations have cemented suits as an essential for the wardrobe of any modern woman, be they a mom, boss, creative, or all three. dāl looks to create contemporary womenswear that can transform through a lifetime, dressing you through every era of womanhood and molding with your shifts in personal style.
Once labeled "masculine", suitwear now proudly embodies all aspects of modern femininity - a perfect formula of strength, power, softness and interchangeability. Using signature silhouettes and local expertise, our pieces are crafted for all to wear responsibly. 
Throughout Capsule II we've sought out recycled or natural materials to fulfill our desire for environmentally-friendly clothing that refuses to compromise on quality and style. Timeless suitwear is nothing new, but our comforting, conscious approach is a new beginning to the story.
Shop timeless suitwear
Photography • Dimanche Creative
Muse • Michelle Phanh