Understated details, minimal palettes, & playfully curated ensembles define Sissy Chacon's wardrobe & repertoire. An LA-based stylist, director, & tastemaker, Sissy has paved an unmistakable path in the fashion realm through masterful layering, structural pairings, & subtle use of hues. dāl's inaugural muse & Capsule I stylist embodies modern femininity to the fullest. A sculptural editorial shot in Vincent Pocsik's studio (styled & modeled by Sissy herself) left us curiously begging for more.
Here, we cover everything from Sissy's wardrobe must-haves to life philosophies.
_______
Photograher: Mikey Spencer • Producer: Audience Creative Studio • HMU: Janelle Walker • Assistant Stylist: Hannah Anderson • Featuring works by Vincent Pocsik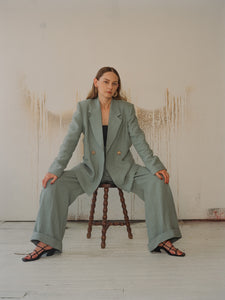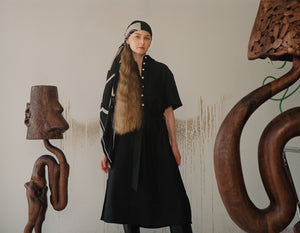 DESCRIBE YOUR STYLE IN THREE WORDS.
I recently attended a styling seminar with Amy Smilovic and she had us start by thinking of 3 of our favorite quotes. From there we boiled it down to 3 words that would tie into our personal style. Mine were "Enough is as good as a feast," "do no harm, but take no shit," and "I always said I wanted to be somebody, I should have been more specific." If I could have thrown in a fourth, it would be all of Desiderata.

When I look at these quotes, I see my outlook on life and my style involve humor, playfulness, lightness, honesty, beauty, dignity, practicality, efficiency, and self-discipline. So maybe "Playful, honest, sensible".

I'm also a real Virgoy Virgo and I love beauty and feeling beautiful as much as I love pragmatism and feeling unburdened. I would never use the word effortless because I love making an effort. Then it becomes easy. Effort brings ease like spending time to save time. I'm a tenderhearted heretic, an austere hedonist and a dignified fool.
Are there any daily rituals you can't live without?
"I'M A TENDERHEARTED HERETIC, AN AUSTERE HEDONIST AND A DIGNIFIED FOOL."
what does it mean to be a modern woman?
I guess it's a woman who approaches life in a way that is up to date with the times in which she's living. I probably don't have many modern woman attributes. I spend most of my time focused on being a supportive wife, hoping to be attractive to the opposite sex, tempering my ambition, resenting technology, shirking adult life responsibilities and avoiding being owned by a successful career. That doesn't make me feel anachronistic though. It makes me feel like my most authentic self, which maybe makes me modern after all.
name a few places you source your inspiration from in L.A.
The first round of videos I directed for Eddie were all inspired by and filmed in architectural homes, art installation and furniture design showrooms here in LA. I approached them as if they were moving stills from a fashion editorial and we had the help of filmmakers to shoot them with really nice equipment so they came out looking very refined and stylish. I love them.

For this next video, which drops any day now, I felt lit up by the world completely outside of fashion, movie making, and high design homes. I wanted to incorporate the sunshine, landscape, neighborhoods, musicians, friends, family and places that really mean something to Eddie and me. It was inspired by a street preacher I saw at Echo Park lake. It took me back to my love of Folk Art / Art Brut / Outsider Art and the phenomena of salvation-themed automobiles and monuments that pop up all around the globe. The savior complexes, the healers, the urge to create and get your message out whether you're classically trained or an autodidact. And of course the car culture, the freeways, and the winding roads of the hills. The duality-themed lyrics of the song lend themself to celebrating the utopian dreams / dystopian realities all around us here.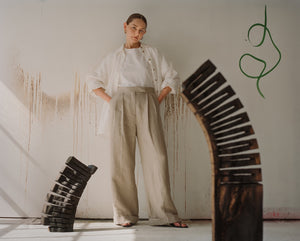 tell us the story behind your favorite wardrobe piece.
I wonder if I can choose a favorite specific piece? That's difficult. In general I'd say it's a toss up between oversized blazers, tailored trousers, midi dresses, knee high boots and strappy sandals. And I love wearing matching sets. If it's not cheating, I'll say a suit in a laid back fabric is my favorite wardrobe piece. Wearing a suit can settle me into my 3-word style description, it's simple and efficient because you can just throw it on and not have to overthink, if you go for an oversized fit it makes it more relaxed, playful and not so serious. I can feel comfortable and covered so I know my real self can shine through, and the beauty can come through the tailoring and fabric, the jewelry I pair with it, and I can sex it up with a tiny top layered underneath.
WHAT'S A SMALL WAY YOU'VE INTRODUCED SUSTAINABILITY INTO YOUR LIFESTYLE?
I am no angel, but I try to avoid buying fast fashion and novelty items and choose to pay for better quality clothing and accessories and keep them for a long time. It takes discipline in my line of work. Amassing clothing is an occupational hazard and it has also been my life's joy since I was a kid. But when it eventually comes time to pare down to essentials, I'll be ready to embrace a simpler, more concise wardrobe.
DO YOU HAVE ANY ADVICE FOR PEOPLE WHO ARE TRYING TO SHOP MORE ETHICALLY?
Buy less, keep things longer, buy quality goods, buy vintage and consignment, beware of greenwashing, buy from brands who really uphold values of sustainability, zero waste and ethical labor practices.